The lush countryside of North Wicklow is absolute heaven for those who love to be surrounded by stunning scenery and nature – the design of our new development, Archers Wood in Delgany, aims to make the most of the beautiful area, allowing residents to really immerse themselves in nature. Much emphasis was placed on landscaping this development to ensure it respected its surroundings, while adding to the beauty of this idyllic surroundings.
When planning Archers Wood, we saw a great opportunity to merge Irish art with nature as part of our ongoing Arts Programme by commissioning some sculptural pieces for the grounds of the development. After much research, our Head of Landscaping, Daibhí Mac Domhnaill, commissioned local Wicklow artist Emma Jane Rushworth, who has built up quite a name for herself thanks to her beautiful twisted wire garden sculptures. A finalist in Super Garden 2014 and a regular at Bloom, Emma Jane specialises in sculptures of animals – ideal for the wildlife idyll that is Delgany.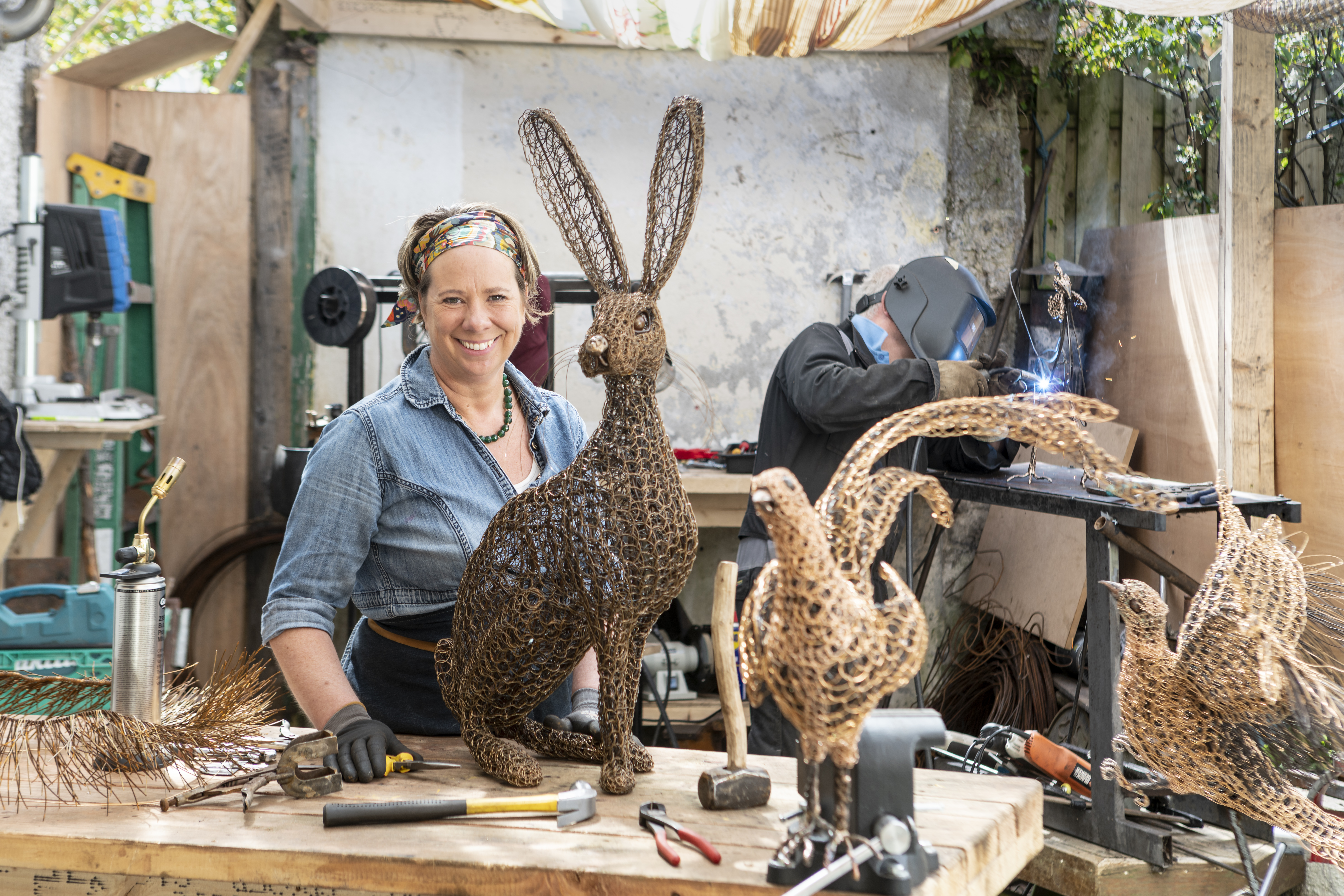 "All pieces I do are inspired by wildlife," Emma Jane told us. "For Cairn, we discussed the area and the setting, and we settled on a pheasant and a hare. I make a lot of hares in private commissions – there's something really magical about them and Irish people seem to have a deep affinity with them. Pheasants have a long history with Co. Wicklow so the two animals together felt right."
The two sculptures fit in well with the colours of their surroundings. The hare simply sits majestically on the grass, while the pheasant is mid-flight, launching from some greenery.
"Often you have to think of where the sculptures will sit," explains Emma Jane. "For instance, the pheasant looks great in flight so works very well coming out of bushes, but the hare is perfect simply sitting on the grass. Daibhí showed me the garden plans to make sure the places were ideal for the chosen sculptures. I think they work perfectly within the context of the development."
And the two newest residents in Archers Wood have certainly settled in well – they even have names, Archie and Philly! Sure to bring a smile to the face of residents and visitors alike, the eye-catching sculptures are simply the latest additions to Cairn's ongoing art initiative, which aims to give each development a unique personality as well as supporting local artists in the community.
Find out more about our Arts Programme and how we invest the spaces we are shaping with a unique identity.